It's a common story. You take your partner out for a date, you share laughs, and have the best moments while looking forward to the main course of the night. Imagine this, you're just getting started, only for your soldier to retire for the night. An evening full of anticipation ends prematurely. Embarrassing, right?
Just as medical experts describe, premature ejaculation occurs when a man ejaculates sooner than he or his partner would like. This not only affects satisfaction but self-esteem. In Nigeria, it is estimated that about 30% of men experience PE at some point in their lives. Depending on many factors which can vary from time to time, it takes an average of 5 to 7 minutes for a man to reach orgasm and ejaculate.
Here the question lies, What causes premature ejaculation?
Premature ejaculation (PE) is a common sexual problem that affects many men in Nigeria, and let's be real, nobody wants to be a one-minute man!
PE may be diagnosed if a man always or almost always ejaculates within 1 – 3 minutes after penetration and is unable to delay ejaculation during sex. Some men affected by PE tend to avoid sex because of the attendant loss of self-esteem.
One of the main causes of PE is psychological issues such as stress, anxiety, and depression. These mental health conditions can lead to tension in the body, and before you know it, you're finished before the main course! There may also be a genetic component to PE, as it is more common in men with a family history of the condition.
Another possible cause of PE is hormonal imbalances, which can affect a man's sexual function. Low levels of testosterone, the male sex hormone, can lead to a decrease in sexual desire and difficulty achieving an erection, let's call it "performance anxiety".
It's not the end of the world.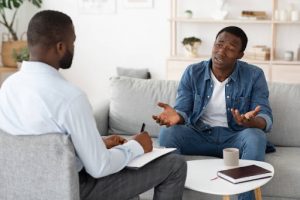 There are several effective solutions to PE, from behavioural techniques to medications, and therapy can help men overcome the stigmas that often accompany the condition.
So, don't be afraid to seek help.