Preconception occurs when a woman or couple decides they want a child. Women who are healthy during conception are more likely to have a healthy pregnancy and child. There are strong links between health before pregnancy and child health outcomes, the effects can extend across generations, but these connections are not widely known.
Among women of reproductive age, poor nutrition and obesity are common. An assessment of pregnancy planning shows that beneficial health behavior patterns are linked to planning for pregnancy before conception.
Nutrition and diet before pregnancy may affect maternal and perinatal outcomes via BMI (body mass index) or other nutritional factors, including micronutrient deficiencies. 
A WHO report estimates that around two billion people are micronutrient deficient, with women at particular risk due to the high metabolic demands of menstruation and pregnancy; This also includes undernourished mothers who experience a lack of Vitamin A and zinc.
Evidence shows that the risks associated with maternal smoking include pregnancy loss, poor fetal growth, and low birth weight. Alcohol and caffeine consumption during pregnancy may lead to fetal alcohol spectrum disorders, which can cause physical, behavioral, and learning problems. 
A balanced diet including good nutrition, moderate exercise, and stress management will come together to increase the chances of a successful conception, pregnancy, and breastfeeding.
Cestra Once A Day Pregna Multi contains folic acids, anti-oxidants, iron, and vitamins needed to prepare for conception, support the health of mother and baby during pregnancy, and provide all the nutritional requirements needed during breastfeeding for the healthy growth and development of the baby.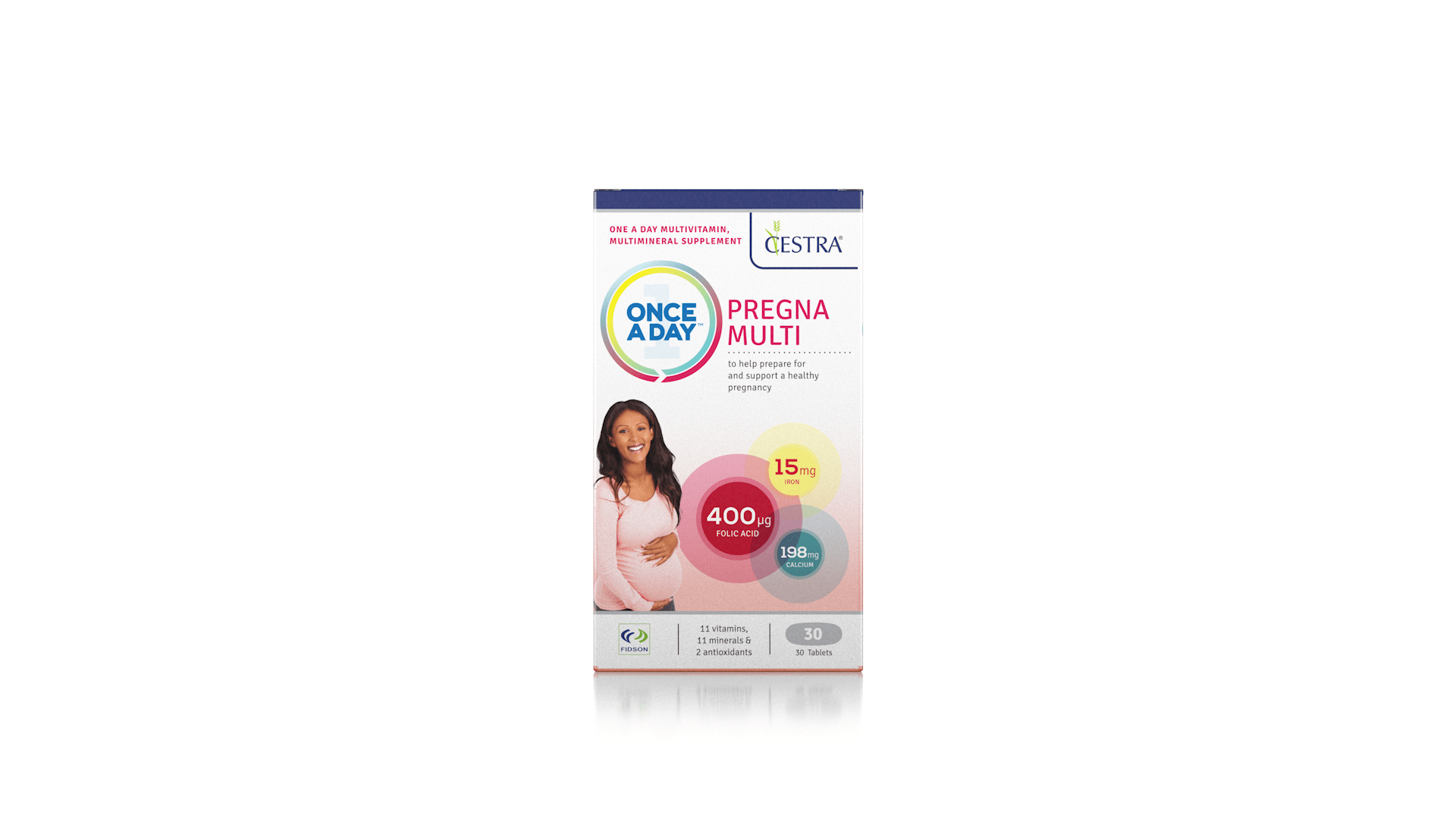 Cestra Once A Day Pregna Multi is a gentle non-constipating multi-nutrient formula for every woman before conception, during pregnancy, and breastfeeding.