Society expects us to conform to a strict set of rules about how to look, which is understandable. Having said that, being bombarded with messages about how the ideal body shape or size should be may lead to negative body image, depression, anxiety, and low self-esteem. This can trigger all kinds of behaviour —taking lots of diet or weight gain pills and having plastic surgery. All of these can have negative effects on the body in the long run.
This is a big topic to unpack, but we are going to focus on how negative body image can affect us in bed, not just at the beach.
Particularly when it comes to sex and relationships, negative thoughts, feelings, and beliefs about your body can hold you back and even contribute to sexual difficulties. Studies suggest that women who feel negatively about their bodies have lower sexual desire and arousal. They are more likely to avoid sex and experience decreased pleasure. Men can also suffer feelings of body self-consciousness, but it often does not interfere with their sexual function as much as it does with women.
There are two kinds of body image issues that may affect a woman sexually – what she thinks of herself and what she believes her partner thinks of her body;
How she sees herself: If a woman feels like her body is unattractive, it leads to lower self-esteem, often leading to avoidance of sexual activity. She will feel more anxious about being seen and touched if she is overly conscious of her body and

will be less likely to lose herself in the moment.

How she thinks her partner sees her: When a woman believes her partner finds her attractive, her sexual function will be higher. Regardless of the truth, if she believes that others view her body negatively, she will lose her desire and ability to get aroused.
Now, enough of the bad news. What to do?
Here are a few tips to overcome body image issues and improve your sexual life: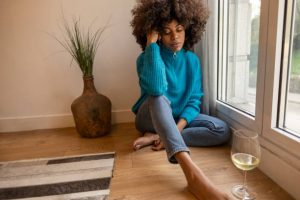 Consume the right content: Fortunately, there are websites, brands, and organizations that encourage people to embrace the fact that regardless of our body shape or size, we are beautiful. Focus on these kinds of messages and remind yourself every day.
Believe your partner: Body image issues cause a lot of women to turn down positive compliments from their partners, thus causing them to reject them. You should listen to your partner often, get out of your head, and allow yourself to be loved.
Practice mindfulness: When you hear those thoughts that make you overly conscious of your body, remind yourself that you are entitled to sexual pleasure and that it will bring more closeness and bonding with your partner. Every day, spend a few minutes practicing how to be in the present.
Start doing what feels comfortable, embrace your silhouette, and be elegant in the way you walk.