Are you worried about that painful blister you have around your mouth or genitals? Don't just assume it's a regular infection or rash. It could be herpes!
Herpes is a common viral infection that affects millions of people worldwide. It is caused by the Herpes Simplex Virus (HSV), which has two types: HSV-1 and HSV-2. HSV-1 is responsible for those pesky cold sores around your mouth, while HSV-2 is often linked with genital herpes. It's important to know the symptoms of both types, as either can cause outbreaks anywhere.
Speaking of symptoms, herpes is known for causing small, painful blisters around the mouth or genitals, but here's the thing – some people may not even experience any symptoms at all! That's why it's important to get tested if you're sexually active, even if you don't think you have any symptoms.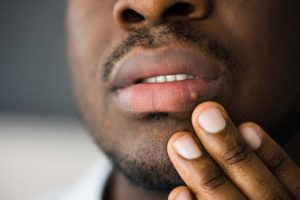 Herpes is highly contagious and can be transmitted through skin-to-skin contact, even when the infected person doesn't have any visible symptoms. So, it's important to practice safe sex and always use a condom to reduce the risk of transmission.
Unfortunately, there's no cure for herpes, but antiviral medications can help manage symptoms and reduce the severity of outbreaks. It's important to disclose your herpes status to your sexual partner(s) and practice safe sex to prevent transmission.
Always remember to take care of yourself, practice safe sex, and get tested regularly.